2021 • 09 • 14
The National COVID-19 Vaccination Operations Center released Advisory 55-A which presents interim guidelines for the issuance of International Certificate of Vaccination (ICV) against COVID-19 for travelers. This will be until the Certificate of Vaccination Record portal is fully operational.
The ICV, sometimes called the yellow card or yellow book, is for travelers who got fully-vaccinated in the Philippines and will be flying out to countries that require proof of vaccination. It is issued by the Bureau of Quarantine (BOQ) and recognized by the World Health Organization (WHO).
NOTE: An ICV is NOT a requirement when traveling abroad from the Philippines. Likewise, NOT ALL countries accept an ICV. But you may get one in case your country of destination does require it, so check the entry requirements of the specific country you're visiting. Also, the term ICV is used for other illnesses, but this post tackles ICV against COVID-19.
If you're an inbound traveler who got fully-vaccinated here in the Philippines, you could use a BOQ-issued ICV as proof of vaccination to shorten the length of the required hotel quarantine stay. The original or hard-copy of the LGU / hospital-issued vaccination card or an LGU-issued vaccine certificate can be presented too, according to the advisory.
If you're a traveler vaccinated outside the country and arriving in the Philippines, you can present your vaccination card or ICV issued by the "green country" where you got vaccinated. There may be other conditions / requirements that need to be met.
In this post is a step-by-step guide on how you could set an appointment to get an ICV from BOQ if you will be traveling to countries that require them. The International Certificate of Vaccination or Prophylaxis is issued on weekdays. Initially, these were the sites that process ICV.
BOQ Main Office
BOQ Mall of Asia Satellite Office
Cebu Quarantine Station
But as of September 2021, there seem to be more options on the list of available sites.
Before you start setting an appointment, make sure you have a copy of your valid ID and vaccine certificate (front and back) because you will be asked to submit these during the process.
Here's how to schedule an appointment for an ICV.
WHAT'S COVERED IN THIS GUIDE?
You can find it here: Bureau of Quarantine Medical Services Online Booking System.
It looks like this: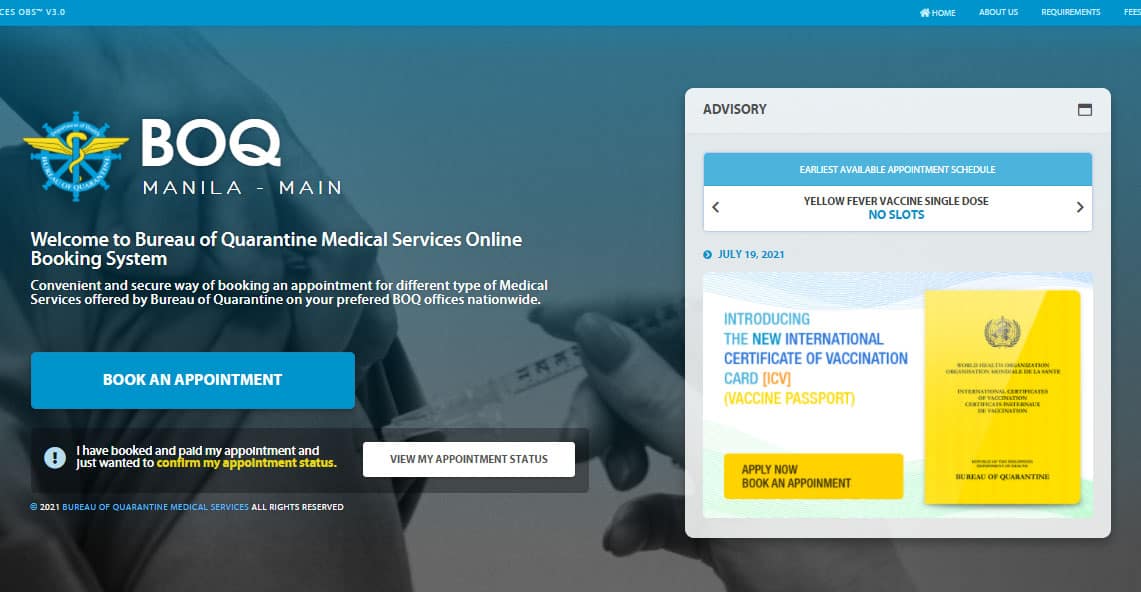 Click the BOOK AN APPOINTMENT button. A terms & privacy notice will appear on the screen. Read the policy and click the 'I Agree to the Terms & Privacy Policy of this Website'button.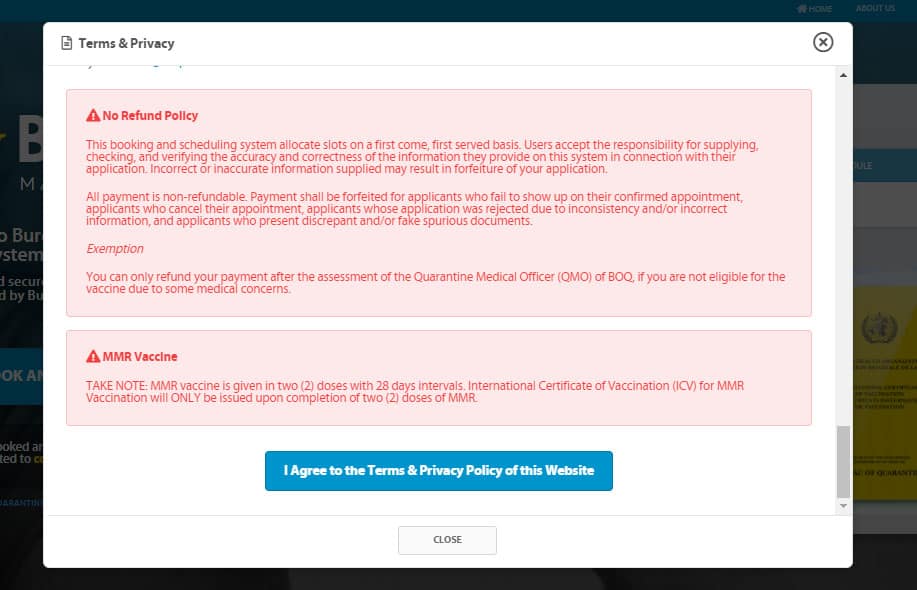 Make sure you enter a valid email address that you have access to. Then, tick the captcha box and click SUBMIT.
Click the drop down button and choose CERTIFICATION. Then, click INTERNATIONAL CERTIFICATION OF VACCINE FOR COVID-19 and click NEXT.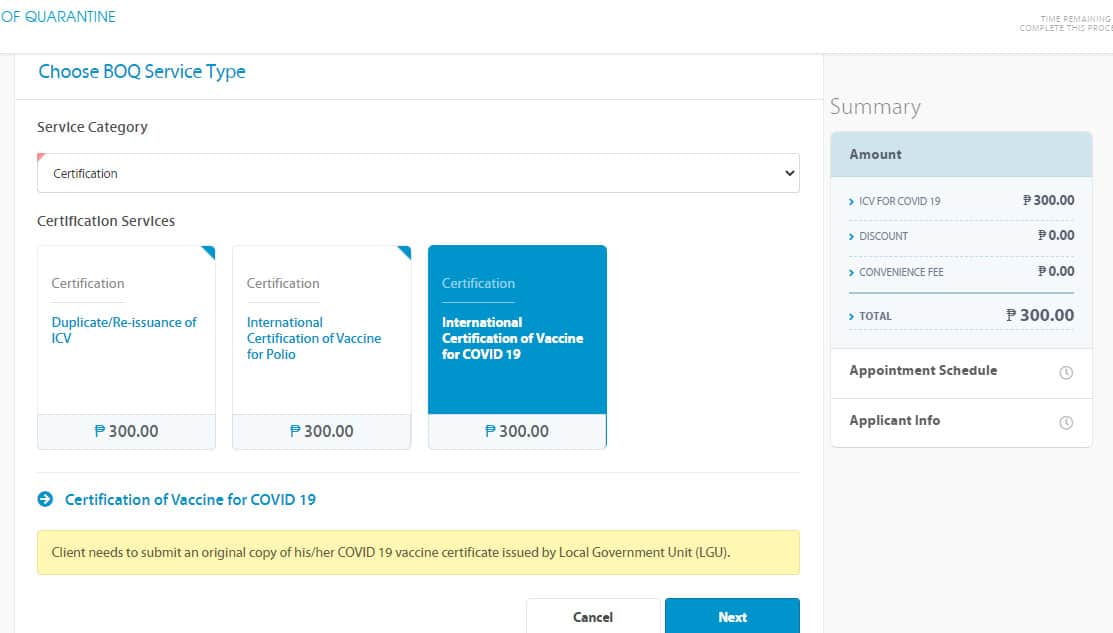 Select a date for your appointment. The dates marked with red are fully-booked, while those marked with green are available.
After selecting a date, pick a time you prefer. You will also see the number of available slots in each schedule.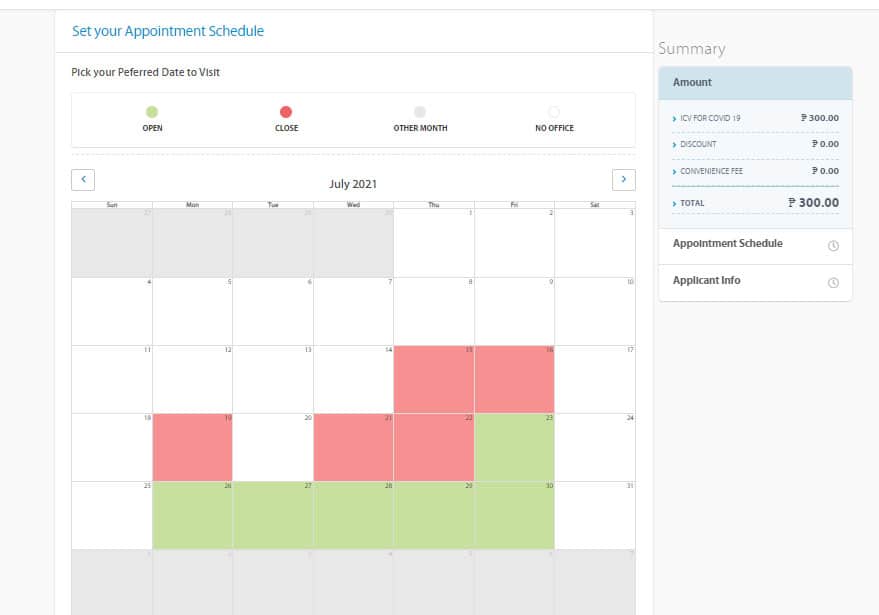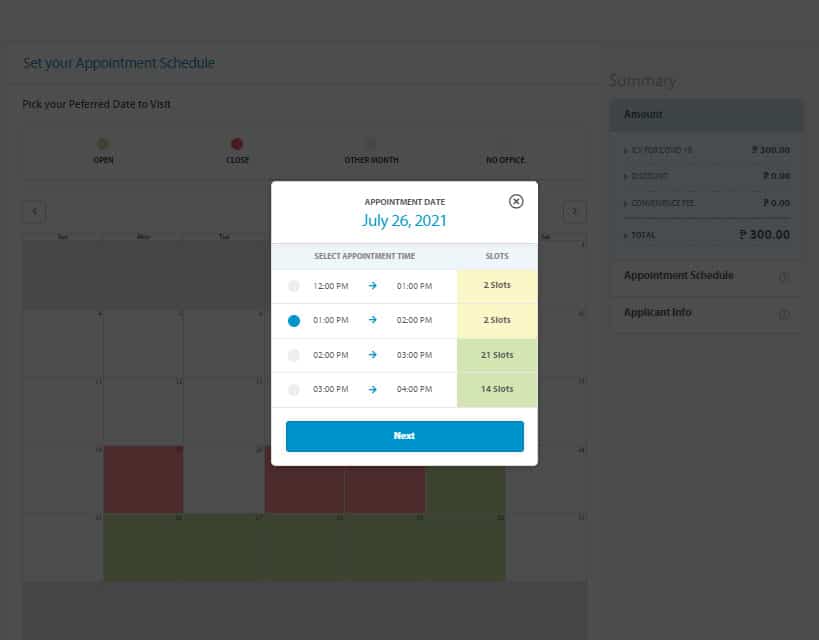 You will need to provide your personal details and contact information. Once you're done, click NEXT.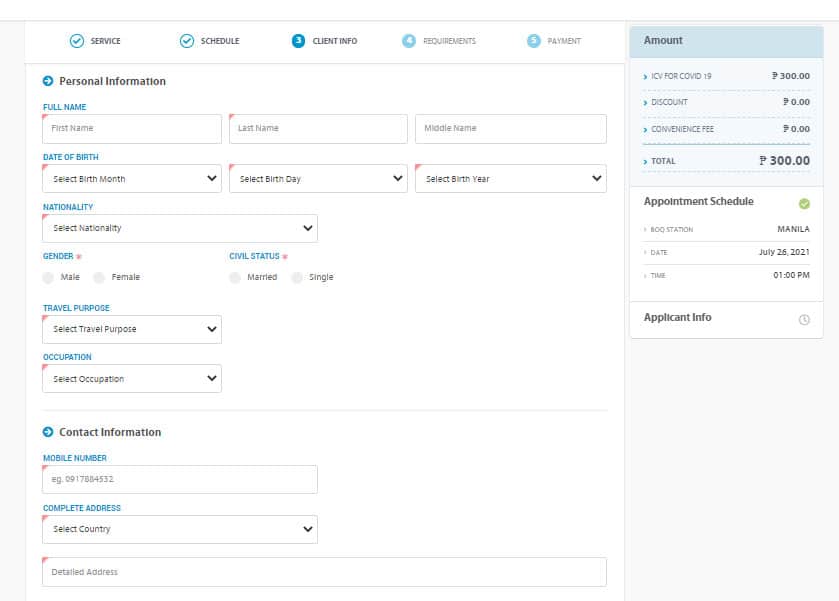 Upload a picture of your valid ID and enter your ID number. Then, enter your vaccination details and upload a copy of your vaccine certificate (front and back). Then, click UPLOAD. Once your documents have been uploaded, click NEXT.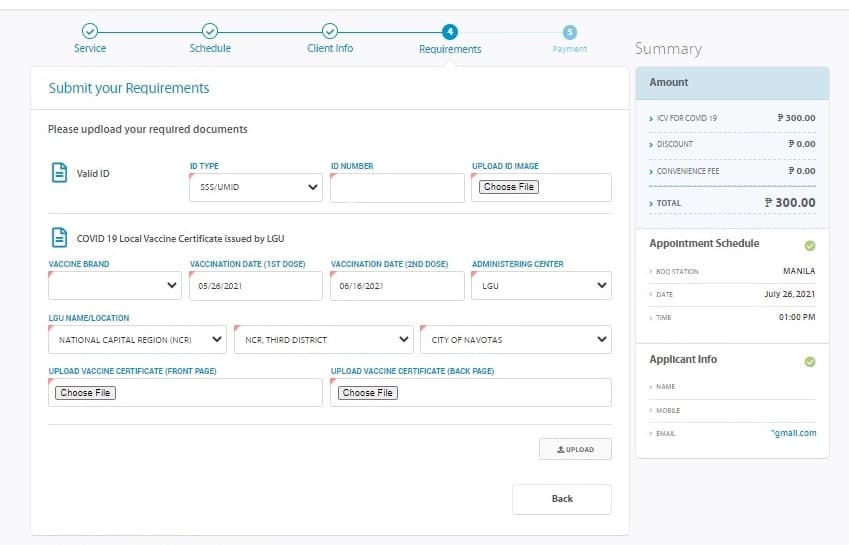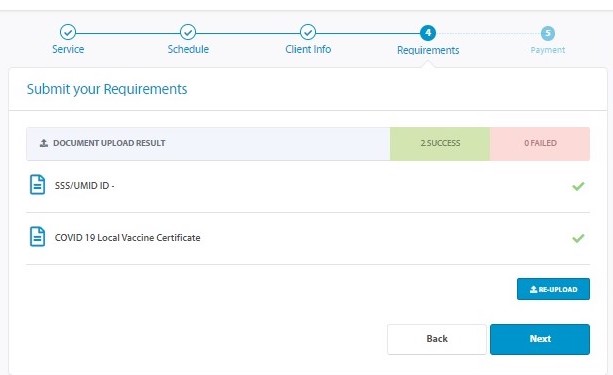 There are various payment methods available. Pick how you wish to pay for your certification and follow the payment instruction provided. Note that there is a convenience fee added on top of the P300 payment for the certification. The amount depends on which payment method you choose, but most of them cost P70. Here are the available payment methods:
Debit / Credit Card
Cash through different payment centers like 7 Eleven, LBC, Family Mart, and Cebuana Lhuiller
E-Money (Ie GCash, PayMaya, and Cliqq)
Online Banking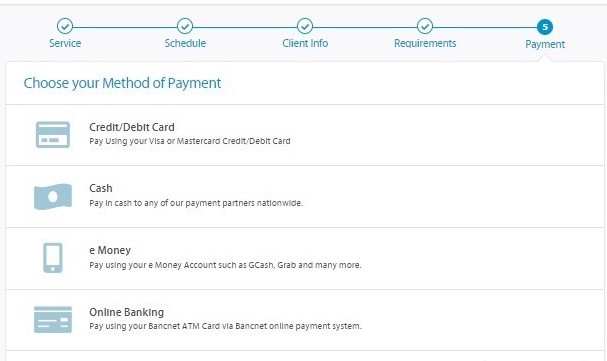 After settling the payment, you will receive a receipt with a reference number. Make sure to save your reference number. You may also print a copy of your receipt.
That's it! You may check the status of your appointment on the BOQ Online Booking System website by clicking VIEW MY APPOINTMENT STATUS and entering your reference number and birthdate.
On the date of your appointment, do not forget to bring your LGU / hospital-issued vaccination card or LGU-issued vaccine certificate.
---
Last September 7, 2021, the Bureau of Quarantine posted an advisory regarding the "expedite ICV" issuance. This is available only for the following:
international travelers who are departing within the next 7 to 10 days, or
international travelers who are considered medical front liners, senior citizens, and persons with disability (PWDs)
Here are the requirements you need to secure and the steps you need to take if you need an ICV immediately. But note that the expedite process is for NCR offices ONLY.
Requirements for Expedite ICV Issuance
For international travelers who are departing in 7 to 10 days
Account with the BOQ Online Booking System. If you're not enrolled yet, see the steps outlined above.
Confirmed flight details.
VALID Overseas Employment Certificate (OEC) OR Contract
For international travelers who are Medical Frontliners, Senior Citizens, and PWDs
Requirements
Account with BOQ Online Booking System. You'll need your reference number to move forward. If you're not enrolled yet, follow the first steps in the previous section.
Confirmed flight details
Bring the following identification cards (whichever is applicable)
a. Senior Citizen
b. PWD
c. Company ID (for medical frontliners)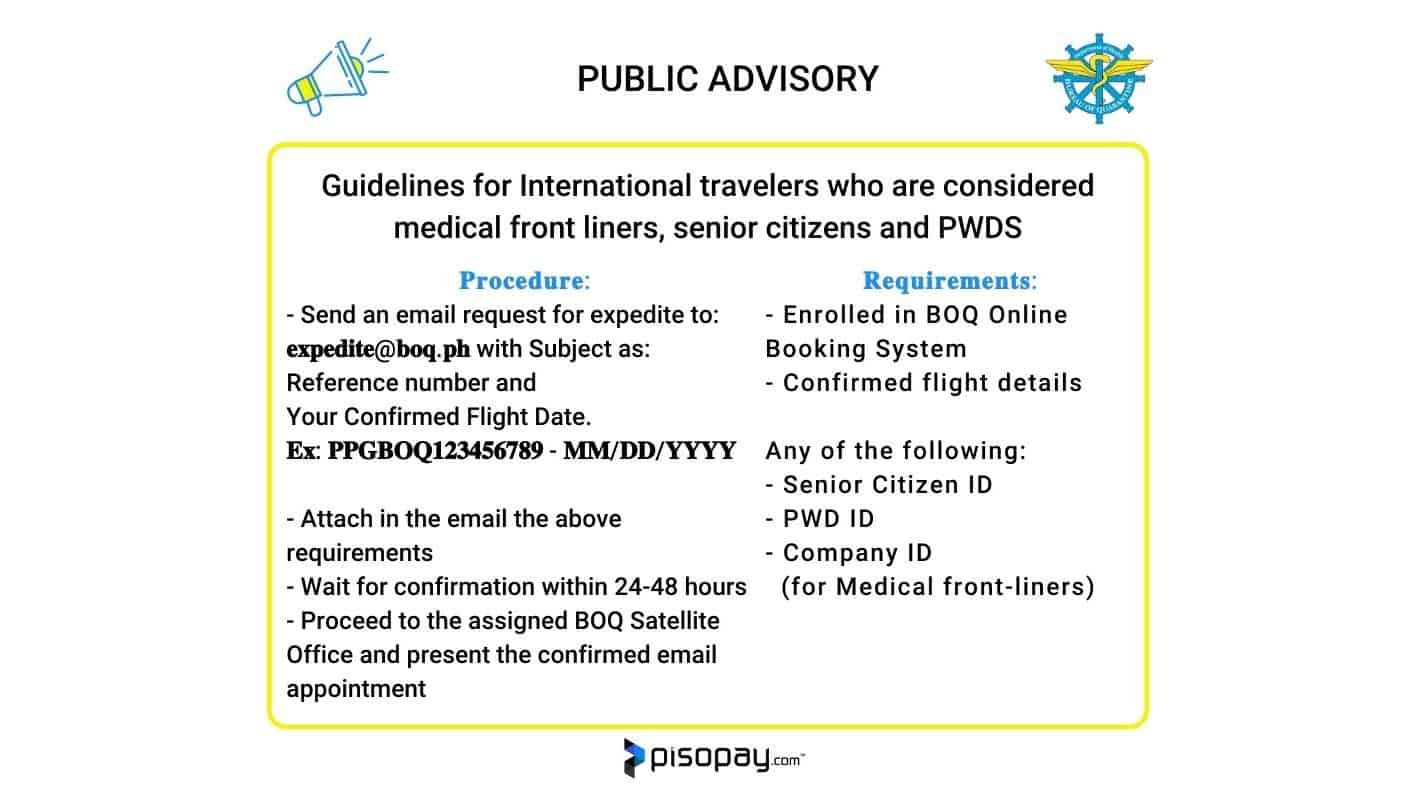 Steps to Expedite ICV Issuance
Send an email request for expedite to ofwicvapplication@gmail.com and put your reference number and your confirmed flight date on the SUBJECT. For example: PPGBOQ123456789 – mm / dd / yyyy
Attach the requirements listed above to your email.
Wait for confirmation within 24 to 48 hours.
Proceed to the assigned BOQ Satellite Office and present the confirmed email appointment.
---
Is ICV required for local travel? No. The International Certificate of Vaccination is only required in some countries. As of writing, many local destinations still require an RT-PCR test.
Is there a fee for ICV? There's a P300 fee plus a convenience fee, the cost of which depends on the payment method you choose. You need to settle this payment after setting an appointment online.
Can I still change my schedule after setting an appointment? No, it is not possible to change the schedule after setting the appointment online. Payment is also non-refundable and failing to show up on your confirmed appointment will forfeit your payment.
How can I contact the BOQ regarding ICV? If you have system and payment concerns, you may email boqicv.paymentnsystem@gmail.com. For other concerns, email helpdesk.clinic@quarantine.doh.gov.ph.
---